20 Nov

CCUA and MD|DC CUA Host Successful Volunteer Leadership Conference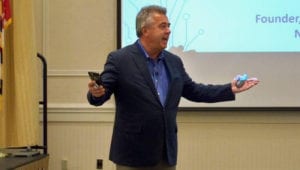 November 20, 2017 – Volunteers from Delaware, Maryland, and the District of Columbia gathered in Ocean City, Maryland over the weekend for the 2017 Volunteer Leadership Conference (VLC), hosted jointly by the Cooperative Credit Union Association (CCUA) and the MD|DC Credit Union Association (MD|DC CUA).
Events kicked off with annual Bank Secrecy Act (BSA) training for the volunteers Friday afternoon. André Lucas, director of compliance with the MD|DCCUA, provided updates and insights into requirements of Customer Identification and other aspects of the PATRIOT Act.
Volunteers that attended the sessions offered will receive certification of attendance.
Following welcoming remarks from MD/DC CUA President John Bratsakis and CCUA President Paul Gentile, Washington Post columnist Gene Marks, author and founder of the Marks Group PC, kicked with an entertaining and educational keynote. Next up, Gentile provided attendees a far-reaching industry update, followed by Bratsakis' thorough update on CUNA's consumer awareness initiative. Longtime volunteer Dave Gilbert of Aberdeen Proving Ground Federal Credit Union, Aberdeen, MD, was honored by MD/DC CUA for outstanding leadership during his 48 years of Volunteer Service.
The afternoon was filled with a selection of educational sessions on a variety of topics from guest speakers:
Don't the Millennials Want What We All Want?

Bill Nagle, SVP Professional Development, CCUA

Litigation Trends that Don't Suit Your Credit Union

Ken Otsuka, Senior Consultant, Business Protection Risk Management, CUNA Mutual Group

Enterprise Risk Management

Charlotte Whatley, VP Compliance Services, CCUA

Supervisory Committee Training

Ashley Beach, Associate, Litigation Department, Fox Rothschild LLP

Bank Secrecy Act Training

André Lucas, Director of Compliance, MD|DC CUA
The event closed with a forward-thinking presentation from Mark Sievewright, CEO Sieverwright & Associates. Sieverwright predicted that the biggest shift in technology since the internet will be the convergence of artificial intelligence with mobile technology, creating conversational intelligence with the machines in our lives. He closed out the event by challenging credit unions to make the move from being traditional to being digital to not only survive but thrive in the coming years. Special thanks to the following event sponsors: Pennsylvania's RKL, LLP – a financially oriented professional services firm, and CUNA Mutual Group.